The home of retired Swarovski crystal
The Crystal Lodge (London) Limited
Welcome to the Crystal Lodge - the UK's No 1 specialists in retired Swarovski crystal.
Established in 1995, the Crystal Lodge is run by Swarovski collectors for Swarovski collectors.
All our Swarovski crystal is in perfect condition and is in its original Swarovski packaging. 
Free postage to all UK destinations.  Flat rate shipping for international orders sent via airmail.
We never compromise on quality.  The Crystal Lodge - the first and the best.
Welcome to The Crystal Lodge (London) Ltd
The home of rare and retired Swarovski crystal
We are the UK's premier secondary market Swarovski crystal company - a company with a long trading history, a company you can rely on and trust. We have a world-wide customer base, and many thousands of happy customers.
We hope you will enjoy browsing our website for information about Swarovski crystal, and of course, shopping and/or pre-ordering longed-for Swarovski items which are no longer in production, from us.
Our on-line shop is packed with a huge selection of retired Swarovski crystal products which are available for immediate despatch worldwide. 
Buy from us with total confidence, we never compromise on quality.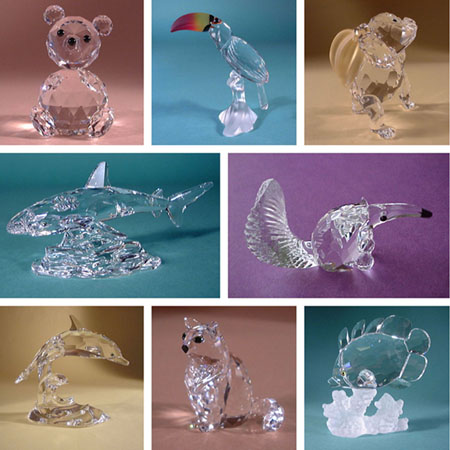 Free Downloads
The Crystal Lodge Swarovski crystal insurance valuation guide
The Crystal Lodge Swarovski crystal insurance valuation guide is available free to download.  A separate document in Word format giving background information about our valuation guide is also available. 
Our Crystal Lodge spreadsheet will automatically calculate the total value of your collection for you, all you need to do is add in the quantity of each piece that you have in your collection! You can use the blank rows at the end of the spreadsheet to add pieces that Swarovski release during the year to keep it up to date.
Why not download a second copy so that you can create your Swarovski wish list?!
The Crystal Lodge Swarovski crystal photograph reference gallery
Our fabulous Swarovski Crystal Reference gallery is arranged in Year of Introduction and Year of Retirement order and is fully searchable. Completely free to use, the gallery is updated throughout the year when changes are announced to keep it as current as we possibly can!
The Crystal Lodge Factsheets
Fully downloadable factsheets full of information on a variety of topics including USA / European exclusives, Variation in Production (VIP) pieces, cleaning and repair advice sheets.  We also have one about the Chinese Zodiac animals including characteristics sheets and charts to help you find which animal you are represented by. 
Latest updates
We are not seeking to purchase Swarovski collections or individual pieces of Swarovski crystal from new clients for the foreseeable future. This is because we already have many Swarovski collections on our books, which we are working our way through and it would be unrealistic to add to that list at this time as it will take a while, to say the least, to get through these.  That said, we are still purchasing Swarovski crystal collections - new stock arrives on almost a daily basis - we just have so many Swarovski collectors already wishing to sell that we want to make real headway through that backlog before we start to take more Swarovski collections onto our books.  We have to be selective and buy what will sell, so we may not be able to purchase your collection for some time if there are many similar ones in the queue in front of it.
When we purchase Swarovski crystal, please be advised that we may not purchase Swarovski collections immediately or make any offer/valuation until your collection best suits the gaps in our stock levels. We are absolutely snowed under with offers at the moment, and are regularly offered 8 or 9 Swarovski collections per week.
We only purchase mint condition Swarovski crystal in the original packaging, which must also be in good condition - and importantly, we only buy what we need/what we think will sell, so not every Swarovski collection will be of interest to us.
Please note that we do not buy or sell Swarovski jewellery, watches or accessories - nor can we provide valuations for these items as our specialist knowledge is centred on the Swarovski crystal figurine and functional product ranges, and this is also where our client base lies. We are not interested in broken/not perfect items as we feel that items in less than perfect condition should not be put back into the market place. We do not purchase unboxed Swarovski collections.

We offer payment via both WorldPay and PayPal.
The choice is given once you get to checkout stage. WorldPay is a very secure method of payment, which requires you to complete your card details yourself - we don't get to see them, it goes direct to WorldPay for processing. PayPal needs no introduction. We have no preference as to which method you use. Beware of any company who can't offer more than just PayPal and can't process credit/debit cards over the phone. This doesn't show a high level of commitment to the client. You can pay us on the phone via all credit/debit cards if you prefer to do so, with the exception of Amex.
We no longer accept cheques, but bank transfer is also available to UK and international clients. We can send you the details you will need if you wish to complete your purchase this way. For certain items, bank transfer will be the only option that we accept.
Shipping
We are happy to ship internationally for all but the very large pieces, for example signed limited editions and any single item over 2kg in weight. We can ship most of those items to you, however, we cannot cover the cost within our flat rate fee. You will need to ask for a shipping quote. In these cases, we only charge you the exact cost of shipping and we will look for a minimum of 3 quotes so that you get the best deal possible.  We cannot send delicate pieces like the 1995 Eagle to overseas destinations.
Orders delivered to UK addresses:  FREE delivery (includes Channel Islands, Highlands and Islands).
Clients in Europe pay a flat rate delivery fee of £12 per order, not per item.
International clients pay a flat rate delivery fee of £15 per order, not per item.
Individual items over 2kg in weight are not included in the flat rate shipping offer to international destinations.  Clients will need to request a shipping quote.
Health and Safety reminder
Please remember that Swarovski crystal items, however cute the animals might be, are not toys and Swarovski are clear that they are not intended for children under the age of 15.
We use cookies on our website, they are small files stored on your computer to enhance the performance of our website and your user experience. They are not harmful and the site cannot operate without them. We are legally required to inform you of our use of cookies for our site to be EU Cookie Compliant. The cookies extract minimal data regarding the tracking of our visitors through Google Analytics to assist our marketing team and help them to enhance the interface of the website for our customers.
The best way to keep up with latest information/news from us is to visit our blog page regularly, and also "like" our Facebook page to receive updates from there.
We don't use your information for anything other than fulfilling your order.
We don't give or sell your information to anyone else.
We do not have a mailing list, we do not send out unsolicited e-mails and we don't cold call you.
We will contact you to acknowledge orders giving details of when and how your order will be despatched, and we will respond to e-mails and requests that you send to us, but we will never e-mail or call you out of the blue!
Your data is safe with us, we respect your privacy and we protect your information.


SWAROVSKI CRYSTAL INSURANCE VALUATION GUIDE
Our Excel spreadsheet will allow you to add in the number of each piece you have, plus will calculate the total for you, saving you a lot of time.
This service is completely FREE of charge! Valuation notes are also available to guide you through the process.
Thank you for visiting The Crystal Lodge
As Swarovski collectors ourselves, we feel we are in a position to provide the sort of website and secondary market crystal company that Swarovski crystal collectors want, deserve and will enjoy exploring. 
Our on-line shop is packed with a huge selection of retired Swarovski crystal animals and other products, which are available for immediate despatch worldwide.
We deliberately leave products which are not currently in stock up on the website for 2 reasons.  Firstly, to provide a valuable collector's resource about your favourite Swarovski products and secondly so that you can use our fabulous Crystal Detective service to track down those hard to find crystal pieces for you.  We have the contacts worldwide to make this possible and have an excellent success rate. 
To some extent, we are a victim of our own success, with copy-cat companies springing up from time to time who often "borrow" our ideas and innovations. However, they don't have our trading history, they don't have our contacts - its not worth taking the chance. We say "why shop with the rest, when you can shop with the best?"
We are proud and highly honoured to be the only company who Swarovski UK are happy to recommend to their clients.  We feel that says it all.
Many thanks for visiting The Crystal Lodge!
Alison & The Crystal Lodge team
The Crystal Lodge is the first and the best!
We are the ONLY secondary market company recommended by Swarovski to clients seeking to buy retired Swarovski crystal and those seeking to sell Swarovski crystal collections.  We think that says it all!!
The Crystal Lodge (London) Ltd
The home of retired Swarovski crystal.
Incorporating Crystal Exchange Ltd (UK) & Nancy Gibbs Collectibles Ltd.
The first and still the best - Buying and Selling retired Swarovski crystal.