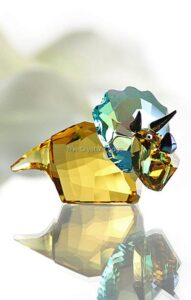 ABOUT THE CRYSTAL LODGE
Buying and selling Swarovski crystal, links, FAQs, company overview and lots more!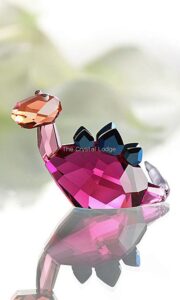 Buying Swarovski Crystal from The Crystal Lodge (London) Ltd
We are a stockist of retired Swarovski crystal and NOT a brokerage. Everything listed as "in stock" on our website is owned by us and is available for you to purchase immediately. If there is only one item and you purchase it – it is yours, and the item will become listed as "out of stock" on the website until we restock. As soon as your payment clears, we will send you the item. In most cases, despatch will be on the same day or the next day. Yes, its as quick as that!
For UK clients, this means that if you order early, we can post to you same day! Dependent on the value of the parcel for UK orders we use either Special Delivery (which is guaranteed to arrive next working day by 1pm), or 1st class signed for service (which in most cases is also a next day service, but take one to 3 days to arrive).
We frank our own mail and it is picked up from our premises each weekday evening.
Our policy is to keep our website full of photographs and information for reference, so that you can explore, research and identify pieces easily. However, we do run out of things at times, but we keep a guide price on the item's shop page, and the piece will be easily identifiable as "out of stock". You can, however, alert us to your requirement for the piece by using our Crystal Detective feature. Select this option, complete the short on-line form, and automatically alert us that wish to purchase the piece/s of crystal selected – you do not need to complete any method of payment as no money will be taken from you at this point. We despair that some companies actually take your money first and then try to find the item. 
We will then search for the item on your behalf, alerting you when it becomes available, and you will have the option of purchasing it before it goes into general stock. For most items, we can find them very quickly as we have various collections on our books, and its just a case of talking to a seller and asking them to send their items to us.
For rarer items, we will enter the details onto our database and as soon as we find that item, our database will alert us as the item is put into stock, that you are seeking this item and we will give you first refusal. The time limit for Crystal Detective requests, in most cases, is one month, and the request will be automatically cancelled at that point.  This is because after that time, most collectors decide not to purchase, making the whole exercise futile.  We would rather concentrate on new requests and get those through to the client quickly.
To avoid fraud, all our crystal is marked with at least one unique security symbol. These security marks will come off easily with soapy water.
However, if you wish to return the crystal for any reason, we will not accept it unless it still displays our original marks.
If you purchase a very rare piece from our non-mint/non-perfect section, these are sold "as is" and may not be returned.  This section is only used very occasionally to allow collectors access to very rare items which they perhaps would not otherwise ever find for their collections.  The items are listed separately and very clearly marked as being not perfect. 
All values are in GB pounds sterling, and all payments must be made in GBPs. We operate a flat rate postage/shipping charge, set at 3 levels: UK, Europe, international. This fee is per order, not per item.
However, for European and international orders this only covers items which are individually less than 2kg in weight. For items over 2kg, you will need to ask for a shipping quote ahead of purchase as these items are over the airmail limit and will need to be sent via courier. We will get a minimum of 3 courier quotes in order to find the best service for you, at the best possible value, and of course, your order will be adjusted so that you do not pay £15 plus the courier charge.
You have the right to cancel within seven days of receipt of the goods. If you do cancel your order, we will return your full payment upon the return of the items. Our security mark MUST be present on the crystal in order for you to receive a refund.
We are happy to accept orders from outside the UK, just place your order and pay flat rate shipping charge. There are 2 rates, one for Europe, one for rest of the world - see postal charges (above). While these flat rates apply to most items and combinations of small items - they do not apply to items which individually weigh over 2 kg each. Such items will need to be sent via courier as they are deemed too large to be sent via airmail. Therefore, you will need to ask for a postage quote before buying large pieces.
The Crystal Lodge (London) Ltd accepts no responsibility for any customs charges incurred. If you are not sure whether your imported goods will attract customs charges, then it is best to check your country's import tariff rules before you order.
If you need to do a quick currency conversion ahead of purchasing, here's a website where you can perform a real time currency conversion: www.xe.com.
Because of the wide-range of retired and discontinued Swarovski products, we cannot hold stock of all of them for immediate despatch, but nonetheless, we do stock a vast range. We display information and photographs about the most popular items in addition to those in stock to allow collectors to familiarise themselves with these pieces and learn more about the retired Swarovski crystal products.
If the item that a collector wants is up on the website, but not in stock, there is the option to ask our "Crystal Detective" to search for it.
The Crystal Lodge will only stock items which Swarovski have produced, or items on which they have collaborated. We do not be stock crystal products from other companies who simply use Swarovski stones in their manufacturing process, so we not be stocking, or indeed buying, items like Arribas or Oliver Weber jewelled pieces.
We have taken the decision not to stock "currently available" Swarovski items. That is, those Swarovski crystal figurines and objects which are still available to purchase from Swarovski themselves either on-line or via one of their own stores or via their network of independent retailers. This is because we recognise that without Swarovski, there would be no Crystal Lodge! We rely on Swarovski to create new designs and then retire/discontinue them in order for our company to work.
If we were to stock current items which we buy in via collections from people and then we offered them at a rate below the recommended retail price (RRP) which is the price at which Swarovski retailers sell them, then we would be undercutting the very company we rely on in order for us to operate our secondary market crystal company. For this reason, we have decided to either not purchase current pieces within collections, or to hold onto any current pieces which we buy as part of collections until they retire, and only then list them as stock once they have officially retired.
In particular, we feel very proud and highly honoured to be the only secondary market crystal company who Swarovski are happy to recommend to their clients who are seeking to buy or sell retired pieces. So, we would never compete with them in the primary market. However, a "gallery" feature was something that clients had been requesting for some time.  Collectors wanted somewhere they could view both current and retired items in one place.  The current crystal items can be found at the end of our shop page, but we make it very clear in listing those "primary" market products that they are not available for sale from us, are only there for information and will become available once retired from the official Swarovski programme. All the stock levels for the current pieces are set to zero, and we will not accept "Crystal Detective" requests for them.
Please be aware that any items which The Crystal Lodge despatch to buyers outside of the UK may be subject to customs/import duties when they reach the destination country.
If you are ordering from outside the UK (including the EU), you should research how much this could add to the cost before purchasing, as sometimes this can add 1/3rd to the cost of your items.  The charge is raised by your local customs authority and is nothing to do with us.
Please do not ask us to undervalue the insured value or customs value of a parcel as for us to do so would be fraudulent and is a criminal offence. Additionally, if the goods were damaged in transit, we would be unable to make a full claim as a result.
Your order will be processed in GB pounds.  If you need to do a quick currency conversion ahead of purchasing, here's a website where you can perform a real time currency conversion: www.xe.com.  It won't be absolutely identical to the rate your bank charge, but it will give you a good idea of what to expect.
Every piece of crystal in stock has undergone our thorough in-house inspection and cleaning process. Any item with even the most minor imperfection is graded as "not perfect" – only top quality, mint items pass our inspection process – guaranteed.
We are not interested in re-selling broken or poor quality items which may have been re-glued by someone other than Swarovski.  The best place for items like that is the bin.  Quality is assured when you purchase from The Crystal Lodge (London) Ltd.
Inevitably buying collections means that we will find non-perfect pieces. However, we do NOT sell "run of the mill" items which are imperfect, we prefer to destroy those.  These pieces should not come back onto the secondary market, and we certainly would not entertain the idea of re-selling DIY repaired crystal.  We only using our grading system for items which are incredibly rare, and for which it might be impossible for a collector to get the piece for their collection otherwise.
We grade using 4 levels of imperfection, and the items would be in a separate area of the website and very clearly annotated as not mint.  We do not believe it is up to the customer to be "buyer beware" having to read each and every description to determine if an item is perfect or has the correct packaging or not!  Here are the grades that would apply to a very rare piece if it was non-mint:
Grade A = Minute damage or damage that can't be seen when displayed.
Grade B = Small amount of damage.
Grade C = Noticeable chips and scratches.
Grade D = Deep chips and scratches.
No nasty surprises!!
We accept all major debit and credit cards for mail order/telephone and internet purchases, although we no longer accept American Express via WorldPay (although you can use Amex via PayPal). There is no additional handling fee/surcharge for using your credit card or debit cards at The Crystal Lodge (London) Ltd.
We accept PayPal payments, any payment you make to us will show up on your receipt to the e-mail address: [email protected].
As you proceed through the checkout process, you will be given the option of going to WorldPay or PayPal. The choice is entirely yours - we have no preferred method of payment.
We no longer accept payment by cheque. We do, however, accept payment via bank transfer, just contact us for the details you need. There really is no escape! 
We do not offer finance terms directly, however, options are available via PayPal and will be offered at checkout.  This is a great alternative to a direct finance option, as your goods are shipped immediately and you don't have to wait until you complete the final payment as you do with some credit arrangements.
Crystal is despatched Monday to Friday, and for items which are "in stock" we aim to despatch same day or next day to you wherever possible, providing your payment has cleared. The office is closed at weekends and all on Bank Holidays which apply to England.
For UK clients, the majority of our orders will be sent by Special Delivery or 1st class signed for service.
For overseas clients, "airmail/international signed for" or "airmail/track and sign" service will be selected. We always used a signed for service for crystal.
For larger orders, we will use a courier service, usually UPS, Parcelforce or DPD. 
We purchase crystal from sellers and stock it – we actually own the crystal that is for sale - so your transaction is solely with us – no third party is involved. We never pass your details onto anyone else.
We take security very seriously. Our website has the latest secure technology to keep your information safe. One of our 2 payment gateways is operated by WorldPay and is totally secure. It is part of the NatWest banking group who process our telephone orders via the virtual terminal process. If you make a telephone order, giving us your card details, once the transaction has been processed, we shred your card details immediately. Our second payment gateway is PayPal and this is also totally secure. If you require further details of a more technical nature, you can visit their websites at: www.worldpay.com and www.paypal.com.
We comply fully with the Data Protection Act and are registered with the Information Commissioner's Office, which ensures that we handle your personal details safely and securely, using a mixture of common sense and also following their examples of best practice.
We will not contact you other than to let you know we have received your order and to advise when it will be despatched and how it will be sent, with a rough idea of the estimated arrival date. We do not contact you for any other reason, we do not cold-call or send out e-mails via a mailing list, nor do we ever pass your details on to anyone else.
We use cookies on our website, they are small files stored on your computer to enhance the performance of our website and your user experience. They are not harmful and the site cannot operate without them. We are legally required to inform you of our use of cookies for our site to be EU Cookie Compliant. The cookies extract minimal data regarding the tracking of our visitors through Google Analytics to assist our marketing team and help them to enhance the interface of the website for our customers.

Selling Swarovski Crystal to The Crystal Lodge (London) Ltd
Selling your Swarovski collection
Please note we only purchase perfect Swarovski crystal in the original boxes which must also be in good condition. We do not purchase unboxed collections or broken crystal, however, minor the damage.
We have been absolutely inundated with requests from potential sellers of Swarovski crystal collections! We receive, on average, offers for 8 or 9 large Swarovski collections a week and several smaller ones, most of which we are turning away at the moment. We have high stock levels, so our priority is selling! We have to be realistic about the amount of stock we hold, and need to be very selective about items we purchase - tailoring our buying to what actually sells and not building up stocks of immovable objects! Sadly, many of the Swarovski collections we are being offered are very similar and are comprised of pieces which do not reflect what is selling well at the moment.
Older items such as annual editions and animals, paperweights, candleholders from the 1980s are far slower to sell at this time as many original Swarovski collectors are choosing to downsize and these items are flooding the market, yet are not popular with buyers. Newer Swarovski collectors are only seeking more newly retired items, which of course, the original collectors do not have in their collections. So, there is a big gap between what we are generally being offered and what our buying clients are looking for.
We recognise that not everyone "wants" to sell a Swarovski collection, it may be that for whatever reason, they "have" to sell, and while we would never ask your reason for selling, we understand that sometimes this can be a difficult and painful time, and therefore we endeavour to deal with each sale as sensitively as possible. We also know that there are some out there who prey on people who are going through bereavements and snap up items as quickly and cheaply as possible, while pretending to be helpful. We have heard some real horror stories, so please beware of anyone who approaches you if you advertise or ask around. You only have these items to sell once, and you may not even want to part with them at all, don't get ripped off by people who know what they are worth, but are who are banking on the fact that you don't, and/or you just want rid of it as quickly as possible! They will appear to be very friendly indeed and understanding, offering to help you, asking you if you're sure you really want to sell etc, maybe take a little more time to think about it - luring you in, getting you to trust them. This is how they operate - don't be taken in by it. If they approach you, have a look on Ebay - are they claiming on Ebay to be one of the cheapest sellers? Well, that's not going to bring you much of a return, is it? Do the research and then decide for yourself!
We already have good stocks of crystal and plenty of Swarovski collections already on our books which we are working our way through. If we need any particular items we will set up a "wanted" page on our website, and list the pieces we are looking for, but in the meantime, we have enough stock and collections of Swarovski crystal already on our books to last us a very long time. It would be unrealistic to add to that list. Our "wanted" page is not currently on-line as there is nothing we are specifically looking for.
PLEASE NOTE:
Please don't make the mistake that some people do. Often we receive e-mails from people who have diligently gone through our website and then send us a list highlighting our attention to those items which are shown as out of stock, expecting that we will jump at the chance to buy them! I'm afraid its not that simple.
Firstly, our stock changes on a daily basis - but more importantly, often there are good reasons for certain items being out of stock - sometimes its as simple as we don't want to keep those items in stock as they don't sell well - in other words, they are the very last items we would wish to buy! So, it is a huge waste of a potential seller's time to do this, and while we feel bad pointing it out, we want to save you from a lot of unnecessary work/research.
When we are seeking to buy Swarovski collections, our system is simple, safe and secure. We will ask you to send us a list of the items you wish to sell by e-mail. We prefer not to receive them by post, unless you give us an e-mail address for our response. We need as much information as you can provide – particularly whether you have the original Swarovski boxes and certificates, and a full description of any damage, however minor, to each piece. This is particularly important for items such as annual editions. Letting us know that a box is particularly scruffy is also a help, or if the foam is missing etc. This will enable us to give you a far more accurate estimate when we make your initial offer. We are very unlikely to purchase unboxed collections, damaged pieces or collections of paperweights or candleholders, etc.
We prefer to receive only those Swarovski collections which are in pristine condition and for which all the Swarovski boxes and Swarovski certificates (where appropriate) are present and are also in excellent condition, preferably with their original labels also present. If you are not sure of the correct name for the piece, then photographs will help. We need to know what you have before we can give a rough estimate. A list that says, for example, 2 cats, 3 dogs etc is of no use to us as there are too many options, so if you are not sure, the code number on the box will help, or a photo.
It is very rare that we buy your Swarovski collection immediately – please do not expect us to do so! There is no first come/first served arrangement when buying collections either. We only offer for your Swarovski collection when our stock levels require it, and much depends on gaps or potential gaps in our stock as to which collections we choose to make an offer on.
If our stock levels are low, and we need the pieces on your list, we will offer to purchase your entire Swarovski collection. If, however, our stock levels are high, but there are some items which we need now, we may offer to purchase selected items as we need them and purchase the other items at a later date. Your details are kept for our use only – and will never be passed to anyone else. There may be times when we have many collections on our books, and it may take a while before we can make you an offer. Once again, can we respectfully remind you that just because a piece or pieces are shown as "out of stock" on our website, it doesn't necessarily mean we are seeking to re-stock those items!! Many potential sellers fall into this trap and send us e-mails saying "you haven't got this, this and this, but I have, will you buy it?" Our stock changes on a daily basis and sometimes we don't stock particular items as we don't want them as they are not popular!
We also buy empty Swarovski boxes and sometimes, display items manufactured by Swarovski for use by dealers. Again, send us a list of the items you wish to sell and we will make an offer when the time is right.
We prefer to buy from the UK. We tend not buy from outside the UK if because the import duty and customs fees imposed on those imports are such that around 1/3rd of the value of the items is charged, and that makes the crystal too expensive to resell.
We do make exceptions to that rule, of course, but usually only for items which were not originally available to the European marketplace. We do purchase Swarovski collections from all over the world, but our preference is from UK.
Only at the stage where we contact you with a view to buying items, do we give you a rough idea of what our offer will be – this of course, depends on the crystal being in the exact condition that you have stated. Our offer may have to be adjusted if we find imperfections or that the pieces are not what you thought they were. For example, you may have listed something as mint, but we discover it has some minor damage to it – we would have to adjust our offer accordingly. Similarly, you might list something as, for example, a mouse, but when we inspect it we discover that is, in fact a rare version of mouse – so in that case, subject to condition, our offer would also need to be adjusted, but this time in an upwards direction. If the majority of the collection is in a poor condition, we will return the entire collection to you as it will be unsaleable.
Once we have inspected and graded your crystal, we will make our final offer, detailing why we are increasing or decreasing our offer based on what we have discovered. Upon your acceptance we will send you a bank transfer in full and final settlement.
This is a much better way to sell a Swarovski collection, than having to list it individually and parcel it up on and as and when basis as you would through a broker, plus we pay you straight away for your items – as we purchase them ourselves, becoming the owners of the piece(s), unlike brokers who match each individual item one at a time, you send them individually (which is much more expensive) and they pay you for each item individually but only after they have sent the item to the buyer and the buyer has accepted the item.
Please be realistic about offers - we can't offer you a price similar to what we sell the item for. We have huge overheads running this business, and there is no guarantee that any of the items that we buy from you will sell quickly, if at all, and all these considerations have to be taken into account.
Remember, our insurance valuation shows the sort of price you would have to pay in order to acquire a replacement item in mint condition, in its original packaging, it should not be used as a guide to what you could achieve selling your items.
We do NOT visit your home/premises to check, inspect, collect or offer for your crystal – no exceptions. Additionally, our insurers do not permit us to have clients attend our premises to drop off or collect crystal for security reasons. Again, no exceptions.
For small to medium sized collections:  Special Delivery can be used for parcels of up to 10kg. UPS, Parcelforce and other couriers are also available, and in some cases they can collect from your home. Don't forget that by sending all your items together, it is much more cost-effective than paying for each item to go individually. Courier services are not as expensive as you might think and they offer an overnight service.
We will go through the options with you at the time, as much will depend on the size of the collection and how bulky it will be to transport. For enormous collections, we have different arrangements for the transportation of those, which will be discussed when we are in the process of buying your Swarovski collection, and that will be a door-to-door collection service, again dependent on overall value of the collection and the distance involved.
Should you decide not to go ahead with the sale once the crystal is with us, then once again, it will be your responsibility to finance the return journey of the crystal to your home. That might sound harsh, but sadly, we have to insist on this, due to time-wasters.
While that sounds like a lot of rules and regulations, the process in reality is simple and straightforward, and we endeavour to buy your collection as quickly as we can, and process the transaction in a friendly and professional manner. As with most things, even the purchasing and selling of Swarovski crystal collections comes down to supply and demand, so its not an exact science, but by making you aware of the process upfront, and with you providing us with as much information as possible ahead of our initial offer, this should ensure that when the time comes for the collection to change hands, that this is done quickly, efficiently and as painlessly as possible, with no nasty surprises for anyone.
We look forward to working with you in the future, giving you the opportunity to sell your Swarovski collection privately, confidentially and in one easy transaction.
About The Crystal Lodge (London) Ltd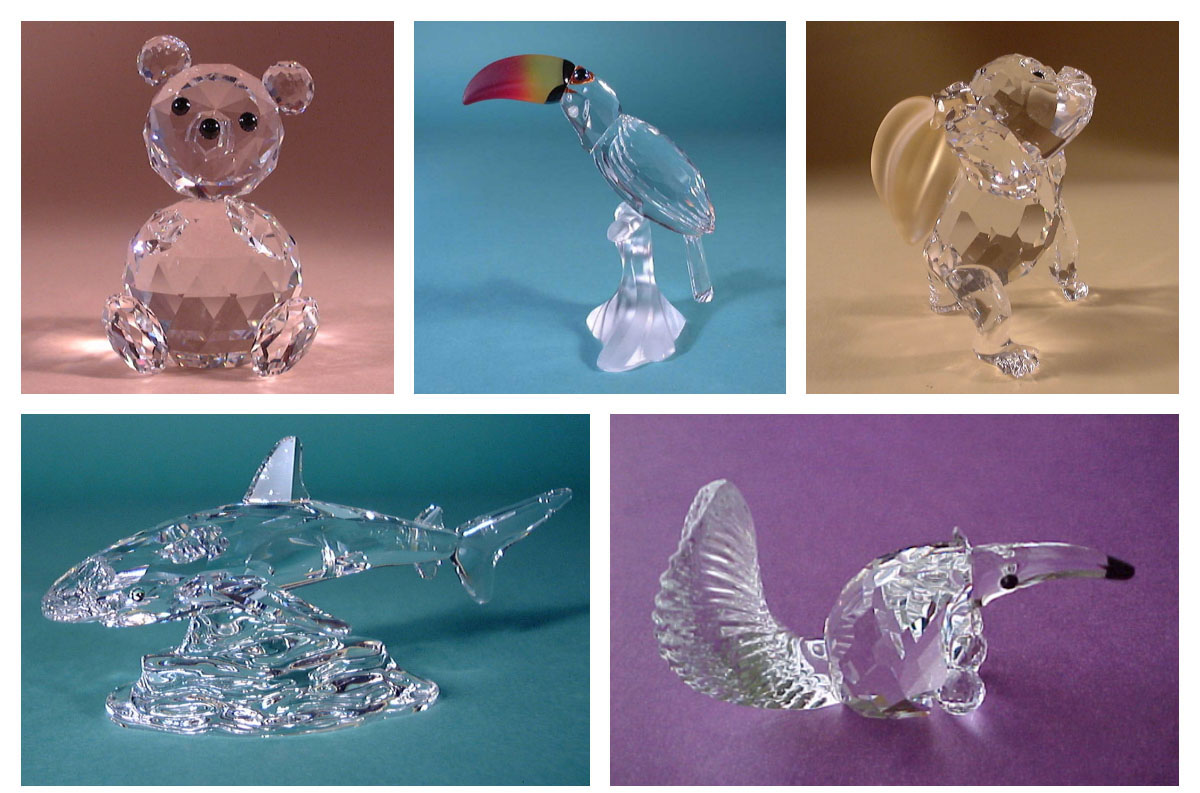 At the beginning of 2008 plans started to take shape, when Alison had the idea for the company. With The Crystal Lodge set up as a sole trader company, in mid 2008 with a change to Limited company status planned for later in the year, something amazing happened.
Nancy Gibbs offered Alison the opportunity to buy Nancy Gibbs Collectibles Limited, a UK based company that Nancy and husband Alan had been running for many years, which they had built from nothing into a company which in its hey-day was the largest stockist not only in the UK, but in the world of retired Swarovski crystal. Alison jumped at the chance!
The Crystal Lodge was still a dream and once Alison had taken over NGC, she decided to change the name, the logo and the NGC website and create The Crystal Lodge (London) Ltd on the very strong foundations. This wasn't designed to be disrespectful to Nancy, as Alison was so genuinely thrilled and delighted that Nancy had offered her the opportunity to buy her company. However, the name did begin to cause confusion as The Crystal Lodge would only be stocking Swarovski crystal and no other collectibles – within the first few weeks, we had been asked about handbags, wedding bouquets, diecast, Stratton compacts, Lladro, teddy bears, discontinued china – you name it! Plus the second problem was that people couldn't quite understand why the company had a different person's name to the name of the owner! So, the decision was made. The original sole trader name would be converted to the Limited Company by replacing the Nancy Gibbs name.
The original name "The Crystal Lodge" was one of those things which just "happened", based on the requirement for a brand identity of its own which reflected what the company did. After several days of suggestions, ideas and complete dismay that we couldn't find "the one", there was a period where everyone said – no more discussions about names today. Forget it – don't think about it – do something else. One night, while Alison was washing her hair (for some reason, she has most of her best ideas while washing her hair!) she was running through names for groups of animals – but Parliament of Owls and Crash of Rhinos just weren't working! Suddenly she had the idea of the names of homes of animals. After all, the company would be the "home of retired Swarovski crystal" and the vast majority of the products would be animals, so it seemed an ideal concept to have the name of an animal's home for the animals to live in until they found a new home. After thinking of setts, dreys, nests and eeries – suddenly "Lodge" came into her head. Instinctively she knew that was the one!! So, "The Crystal Lodge" it was, or to give it its full title "The Crystal Lodge (London) Ltd".
From there, the inevitable "catchphrases" sprung up. The most apt one being "The Crystal Lodge = the home of retired Swarovski crystal". If you will pardon the puns, the team also came up with "The Crystal Lodge is the logical place to buy Swarovski crystal" (groan) and just so sellers don't feel left out: "Your crystal lodges with us until it finds a new home".
At the beginning of September 2010, we were offered the opportunity to purchase our major UK rival company "Crystal Exchange Ltd".
Crystal Exchange was created in 1993 by John Whillock who successfully ran the company assisted by his wife Jill until 2010. Crystal Exchange was not only the UK's premier secondary market crystal company, but Europe's premier secondary market crystal company as well. So we were delighted to accept and amazingly the deal was completed in just 2 and a half weeks! The formal handover of Crystal Exchange Ltd was made on 1st September 2010, exactly 2 years after The Crystal Lodge had purchased Nancy Gibbs Collectibles Ltd to become The Crystal Lodge (London) Ltd.
Crystal Exchange worked in an entirely different way to The Crystal Lodge, in that it acted as a retired crystal brokerage (a sort of crystal matchmaker), but we have kept to the idea of stocking our own crystal as that way we can provide the product to the client immediately which is how we prefer it.
Alison is the main Swarovski collector at The Crystal Lodge, her favourite items are mainly from the Silver Crystal animals range, including the variation pieces, but more recently some of the Christmas pieces have caught her eye as well as the Kris Bears and Mos. 
Having previously worked in the Civil Service in various areas such as Facilities Management, Project Management and then on Pay Policy/Strategy, Alison decided that enough was enough - she was bored, bored, bored! She wanted a completely new challenge – and the idea of running and owning a secondary market Swarovski Crystal company had long been her dream. 
Alison is the only person to have ever helped at the Nancy Gibbs Collectibles shows AND also the Crystal Exchange shows which were part of the Swarovski Designer Signing Events.
The Crystal Lodge (London) Ltd timeline
1993 - Crystal Exchange Ltd is created and is incorporated as a Limited Company. Crystal Exchange Ltd became the premier secondary market crystal company in the UK and Europe.
1995 - Nancy Gibbs Collectibles is created.
1998 - Nancy Gibbs Collectibles (NGC) is incorporated as a Limited Company. At this time, NGC was the largest stockist in the entire world, not just the UK, of retired Swarovski crystal, and the only company to hold exclusive retired Swarovski crystal shows. These shows were held in different locations around the UK for many years and were fabulously well attended.
April 2008 - The Crystal Lodge is created as a sole trader company.
1 September 2008 - The Crystal Lodge purchases Nancy Gibbs Collectibles Ltd and becomes a Limited Company called "The Crystal Lodge (London) Ltd".
March 2009 - Our first website is launched.  The crystal collecting world had never seen anything like this.  Not just a shop, but full of pages of information and tips, hints and useful downloads.  It caused a sensation!
Mid 2010 - The Crystal Lodge opens its Ebay shop called (not unsurprisingly!) "thecrystallodge". Our Ebay store can be found at: http://stores.ebay.co.uk/thecrystallodge.
Please be advised that because of seller fees which are constantly increasing on Ebay, the vast majority of our items are cheaper direct from our website, plus we have over 3 times more products available from our webshop than we have via Ebay. Overseas clients also benefit from our flat rate postage rates, which do not apply to Ebay purchases.
1 September 2010 - The Crystal Lodge purchases Crystal Exchange Ltd.
12 March 2012 - The Crystal Lodge joins Facebook, our page can be found at www.facebook.com/thecrystallodge, or by visiting the panel on the left hand side of this website.
15 October 2014 - The Crystal Lodge joins Amazon UK.
Please be advised that because of high referral (seller) fees on Amazon, the vast majority of our items are cheaper direct from our website, plus we have over 5 times more products available from our webshop than we have via Amazon.
May 2021 - Our brand new modern/contemporary website is launched.  Still packed with all the features that were available from the old website, but with added functionality, including the ability to have your shop search answers come up in photographic format. 
Our photographic reference gallery is displayed in a contemporary and professional format. You can view our introduction and retirement guides, as well as conduct searches for items that you wish to research, including designers, types of animal, groups of items ie Dressed Up, Solaris, etc, and you see your search results in photographic format. Additionally, clicking on each photo brings you to the information where you can find details including the size of the item, the designer (where known), year of introduction and retirement.
We feel this is a great way to provide this information as it allows you the freedom to decide what to search for, rather than having prescriptive lists which may or may not be what you are searching for. Better still, we will be able to update the information in this format much more easily at times of new product launches and/or when retirements are announced, so it will keep the information more relevant and accurate, also making it far easier for anyone who is seeking to identify pieces of crystal as search results will be in photographic format rather than in the traditional list format.
Just click on the link below to view:
A website which needs absolutely no introduction - the Swarovski website! Packed full with currently available products, lots of information on forthcoming releases, collector events and retirements.
Because we are UK based, our payment gateway will deal with your transaction in UK pounds. Here's a great currency conversion website to help our international clients to calculate how much the items are in their own currency before they order. www.xe.com.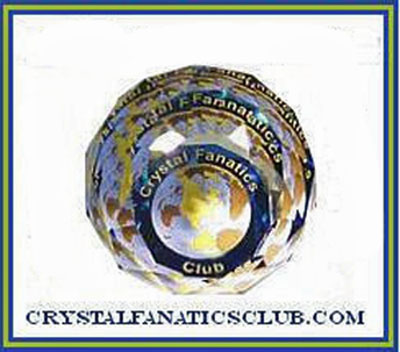 The Crystal Fanatics Club (CFC) is a member's only (modest subscription fee) club for collectors of Swarovski crystal. With extensive photo galleries, discussion boards and regular live chats hosted from all around the world, the CFC is a great place to "meet" new like-minded crystal collecting friends from all over the world to discuss your favourite product. The Crystal Fanatics Club is now in its 18th year!
We would like to take the opportunity to thank the CFC for all their help and assistance while we were setting up The Crystal Lodge, in particular for allowing us to use some of their wonderful photographs from the CFC galleries. If you want to see even more galleries of photos, discuss crystal with other collectors from all around the world, then there's no better place to be. Simply click on the link and sign up! Hope to see you there!
What is a Collecting Club?
Collecting Clubs are an important segment of the collectibles industry. The combined knowledge base of their membership is usually the backbone of knowledge for your collectibles. Many club sites have become key resources for the collectibles industry.
But what exactly do these clubs do?
They provide information to the collector via research, study and documentation. Not only do they cover club activities, provide access to insider information, and breaking news for your favourite collectible, they provide a wide array of information to the collector, offering photo galleries, a history of your particular collectible, photo features of members' collections, proper identification and more.
Many clubs are the industry watchdogs for ethics violations and reproductions. They provide information and advice to new and established members alike in the areas of managing their collections, storage and display, and convenient ways to insure your collection properly.
Many club websites offer forums and discussion groups for those having specific questions about their collections and to share information. Chat forums are held weekly where members can participate in real time.
They offer networking opportunities, the ability to buy and add to your collection, as well as trading and selling your collectibles, and attend annual events. Many club sites have become key resources for the collectibles industry. The most important thing they offer is the establishment of personal friendships, often on a worldwide basis, with people who share the same interests, friendships that can and do last a lifetime.
Being a member of a strong collecting club can personally make you more knowledgeable. If you are a serious collector, you need to be a member of a club. If you are a Swarovski collector, you need to be a member of the Crystal Fanatics Club. CFC is such a 'Collecting Club.' You can join using this Link:
www.CrystalFanaticsClub.com/application.php
We Welcome Your Participation!
Information about CFC
Packed with more information than ever and with far more powerful tools, you'll love the all new Crystal Fanatics Club!
Most often CFC is the first to bring you breaking Swarovski News! The club has several message boards. These are:
(1) The CFC Discussion Message Board - Our Main Bulletin Board, where members conduct most of their interaction. Post your message, respond to messages from others, gossip, share, and learn ALL about Swarovski!
(2) CFC Buy/Trade/Sell Board - where the hot action is for collectors like you! This is where we exchange, trade, buy and sell between club members only. Free with your membership!
(3) CFC Member Spotlights - (archived) - read all about your Fellow Collectors and see their collections!
(4) "I am looking for...." - Members post items of interest to add to their collections!
(5) "Trip Reports...." - Members post reports of their Swarovski-related trips and events including signing events and in-store events (archived).
If that wasn't enough – there are also the photo galleries to explore. Lots of photos albums of our favourite crystal, as well as photos from CFC gatherings and events, and individual pictures posted from and by our members. There are currently more than 7,500 Photos in the photo galleries! No other club site features so many photos!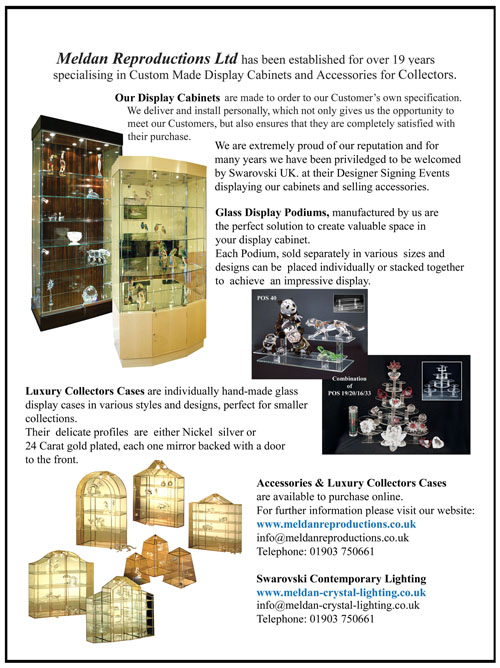 For bespoke cabinets and lighting solutions to show off and enhance your fabulous collection, look no further than Meldan Reproductions!
The world's leading reference guide to Swarovski crystal. With effect from the 2014 edition, the books will only be sold as a set of 3 volumes. They books will be available in either black and white or colour format. Initially the books were available every year, but they are now produced in even numbered years only.
Sadly, due to high postage costs involved in getting the complete sets of books from USA to us, and then to you, we have decided that we will no longer stock the books. If you wish to order a set of 3 volumes (they are not available as individual volumes from 2014 onwards), please go to the Warner book website where you can order them direct. The website address is: www.wbrb.com.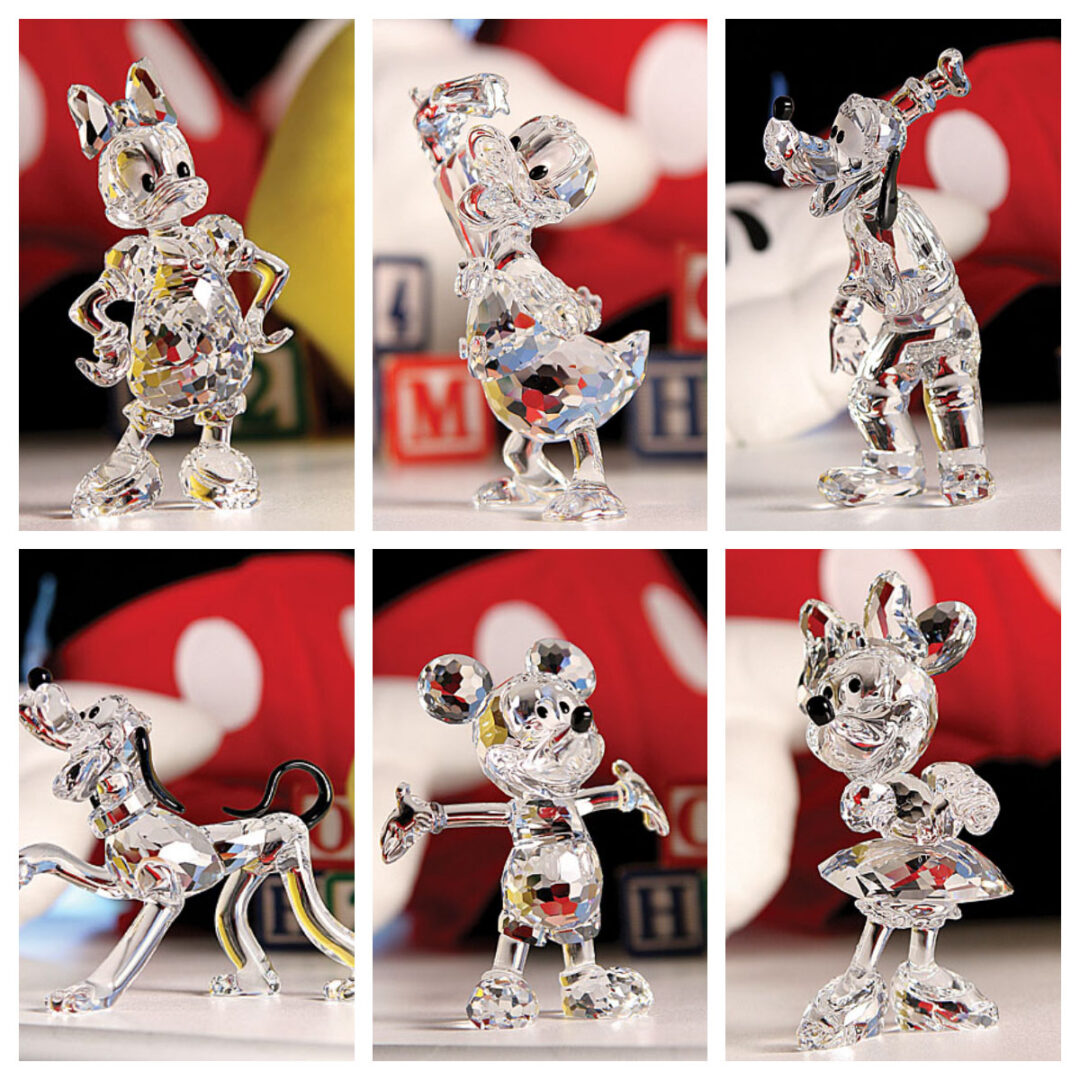 Insurance and The Crystal Lodge insurance valuation guide
The Crystal Lodge insurance valuation guide can be found by clicking on any of the insurance and valuation links on the website.  There you can download an Excel spreadsheet containing details of mainstream retired and current Swarovski crystal, again, this is limited to items which were produced and sold by Swarovski themselves. More information and guidance notes are also available. Some clients download two copies, keeping one version which calculates the insurance value of their collection, and another which they use as their Swarovski wish list.
If you have to make an insurance claim and would like us to prepare a document for your insurance company detailing replacement values for lost or broken Swarovski crystal items, and need expert advise and answers to any questions your insurance company might have about retired Swarovski crystal, we are happy to do this. However, in order for us to undertake this time-consuming work, we need to avoid situations where clients have their claims settled thanks to our hard work but then keep the money and don't buy replacement crystal! Insurance valuations can only be provided to UK clients.
The Crystal Lodge photograph reference gallery
We have a specialist gallery feature where we have all the retired and current Swarovski pieces listed in both their year of introduction and year of retirement. This area is fully searchable, with the bonus of your search results being in pictures. Just click on the photo for the description of the item. We hope you will enjoy this wonderful addition to our website.
The Crystal Lodge Factsheets
For quick updates on any breaking news we have our Blog page where we will post information and photographs to alert you to new information hot off the press, so to speak.
Our Factsheets section comprises fully downloadable (free of charge) information sheets about various areas of Swarovski collecting. Swarovski collectors are always keen to learn about the different products, particularly those more vintage ones which they may never have seen before.

Frequently asked questions
Yes, all our Swarovski crystal is mint and boxed with certificate, unless specifically stated otherwise (any non-perfect piece would have to be exceptionally rare for us to list it and if we do, it goes in an entirely separate area of the website and will be clearly labelled as non-mint).
We stock our crystal – The Crystal Lodge is NOT a brokerage, so we can guarantee this! Please remember that Swarovski stopped producing the generic certificates for their items at the end of 2009, and therefore certificates cannot be sent for those items as they were never part of the package.
Crystal is checked first on it arrives here by two people, and then it is stored until it is ready to be despatched. We then check it again - someone who was not involved in the initial check does this, just in case anything has come adrift etc in the meantime. So, you can buy with total confidence.
The only thing that we can't say for sure is that the more vintage items have the little pictorial label on the box. In the early days of the silver labels, they didn't stick to the box lids very well and often came adrift.
Additionally, because all the boxes were the same in the "old days", many retailers just tore off the label and put the item in any Swarovski box as it was quicker when the store was very busy. Not so much of a problem these days with the newer style labels and more bespoke boxes. So, if this is important to you, e-mail us before you order so we can check we have a labelled box in stock. Please remember that you are sometimes buying a previously owned product and therefore the boxes may not be as pristine as the crystal. We send the best quality box we have for the piece, but do not send any box which we would not be happy to receive ourselves. 99.9% of items will have their pictorial label on, too.
Retired Swarovski refers to those pieces which are no longer in production by Swarovski. Items which will no longer be produced by Swarovski are announced twice a year and once stocks have been exhausted the piece is referred to as either discontinued, retired or out of production - all of which mean the same, ie they are no longer available from Swarovski stores and retailers (the primary market).
Our company is the leading secondary market Swarovski specialist in the UK, and we only buy and sell the retired and discontinued pieces which cannot be found in the shops, which is all those pieces which are no longer in production by Swarovski.  We do NOT sell current items which are still available from Swarovski, or compete with them or their team of primary market retailers in that area. 
We source our items in many ways, so sometimes they can be brand new, other times they may have been pre-owned. We normally have multiples of pieces in stock and we don't differentiate between them or make a note of where each individual piece came from. Often we see auction site sellers listing retired pieces (sometimes decades old) being listed as "brand new", however, we prefer not to use this terminology as it is misleading when an item has been discontinued from production.
We also don't ever use the phrase "never been on display" - there is no way of knowing for sure that this is the case, even if an item has been sourced direct from a retailer. If we don't know for sure, we neither presume or assume!! It is possible that we might lose sales this way as we are not prepared to simply tell the client what they want to hear, when we have no idea of knowing whether this is the case or not.
Others might feel it appropriate to do this in order to secure a sale. We prefer to preserve our integrity - we are honest sellers and intend to stay that way. How many times do you see people who say "never been out of the box" and there it is, sitting next to the box in the photo?!! Exactly our point! 
No, our business is strictly Swarovski crystal figurines and crystal functional items, we do not buy jewellery, watches or accessories and we have no specialist knowledge of these products, so cannot provide valuations for them either.
We do not sell any of the crystal items which have electronic or battery operated components such as light up or revolving displays or items with built-in LEDs.
If you wish to sell your Swarovski collection, please refer to our Selling Swarovski page for all the information you need.
Yes, we do. We are based in London in the UK. We are happy to ship internationally, however, we cannot ship any item which weighs more than 2kg individually overseas within our "flat rate" postage rate as this only applies to goods which can travel by airmail (ie those under 2kg).
For example, things like Isadora and the Wonders of the Sea trilogy or the large Coral display for Paradise need to go by courier and you will need to request a shipping quote from us before proceeding with your order. This is because our fixed postage rates allow for airmail rates, not courier rates which we would have to use if we were sending items this size.
If there is something you need that is labelled as UK clients only, we would be happy to get a shipping quote for you. There may be some that we haven't got that information on, and which we may find after packing cannot be sent via airmail, in which case we will contact you with information and ask if you wish to proceed.
With the exception of those individual items over 2kg in weight, our postage rates are set at a flat rate per order (not per item) as follows:
UK (including Channel Islands) FREE!!!
European destinations £12 per order
International (other than Europe) £15 per order
UK delivery is usually one to two working days. Special Delivery is a next working day service (before 1pm).
European destinations usually 3 working days (best to allow 5 at busy times).
Overseas destinations normally within 7 working days (best to allow 10 at busy times).
Courier services for large orders/very heavy items going overseas vary, but tend to be quicker than the airmail rates specified above.
Because The Crystal Lodge (London) Ltd is UK based, the transaction with us, via our payment gateway providers (WorldPay and PayPal) will be conducted in GB pounds. If you are unsure what this means in terms of your own currency, there is a great currency conversion website here:
Your card company rates may vary slightly to this, and you may not know the actual cost until the transaction is complete or when you access your card statement, but it will give you a reasonable idea of what to expect. 
Yes!  We have 2 payment gateways.
WorldPay:  Your card details are processed by WorldPay, we do not see those details. Your payment goes through their website. Their security systems are second to none.  
PayPal:  Our PayPal address for payments is:  [email protected]. Again, this is a really secure method of payment and the transaction is handled on the PayPal website.
You will be presented with the choice of options when you reach the checkout stage.
Yes, you can!
We use WorldPay virtual terminal in the office - another sign that we are a long-standing, reputable company.
We don't currently process Amex cards this way, although you can use your Amex card on-line via PayPal.
Just call our landline and we can take all the details we need and get the transaction processed for you.  Once again, never trust any company who only offer you a mobile number!
We not longer accept payment by cheque.
Yes! If you wish to use this method of payment, just contact us for details and we will e-mail you all the necessary information you need to make your transfer quick and simple.
Because we stock our own Swarovski crystal, orders can be despatched in virtually all cases on the same (working) day or the next day (dependent on when the order was placed) – its as quick as that.
We have our own franking machine, and our mail is collected daily each afternoon by Royal Mail (Monday to Friday) which means The Crystal Lodge receives priority service from the Royal Mail, and therefore you receive your parcels more quickly.
For UK clients we use recorded delivery and special delivery for all our parcels. Rarely do you need to track anything as they arrive so quickly! However, when we have finished processing your order and your parcel is on its way, we will enter the tracking details onto your order page and "complete" the order.  This will automatically generate an e-mail from the website to you, showing you that the parcel has been despatched, telling you the courier used, and giving you a direct link, with tracking number to their tracking page so that you can follow progress.
For overseas clients we use airmail/international signed for service, and we will e-mail you the tracking information as soon as we have it. We cannot guarantee how quickly items will be with you, and in some cases, of course, the item will be held up at Customs on arrival at destination country, which can add a few more days to the time. It normally takes around 3-5 working days for orders to Europe, and somewhere between 7-10 working days for rest of world for parcels sent via Royal Mail services.
For large orders, we use UPS for both national and international parcels, and once again, we can provide you with a tracking reference and an estimated date for delivery.
Weekdays:
Royal Mail: If your order arrives early enough we can despatch same day, in most cases UK clients receive packages next day. Orders which arrive later are despatched the following working day.
UPS: For larger orders which require courier collection, they will normally leave the next working day after the order to give us the necessary time to collect and pack your items and then book in with the courier service, often the cut-off for booking is around 12pm, so we do need an extra day for this.
Weekends: We do not post orders out at weekends or on any Bank Holiday which applies to England. Our mail is picked up by Royal Mail from The Crystal Lodge premises each weekday just before 4pm and taken to the Sorting Office. Any orders placed over the weekend or late on Friday are therefore despatched on Monday. However, because franked mail (which ours is, of course) gets priority treatment, it tends to arrive more quickly than if we used unfranked mail. So a franked parcel leaving here on Monday will arrive same time or earlier than unfranked mail despatched on Saturday from the Post Office! We know - we've tested it! We also don't despatch on any days which are not Saturdays, but for which a (Royal Mail) Saturday service applies, ie Christmas Eve, New Year's Eve etc.
This was a conscious decision on our part. We wanted to leave the photos and descriptions up on the website so that the website could be used as a reference guide for Swarovski collectors. You won't find another website where you can see all the retired Swarovski crystal products and the current Swarovski pieces all in one place with photos and information about them - particularly when its all there to access free of charge.
If you are interested in an item which is out of stock – you can't pre-order it, as we never take your money in advance if we don't have the goods. However, the guide price is there to give you an indication about the cost of the item should we be able to locate it for you. Again, this sets us apart from some companies who hold onto your funds for several weeks, sometimes months, before you see your crystal. However, you can drop us an e-mail using our "Crystal Detective" service and let us know the Swarovski pieces you are seeking, and we will look for them for you.
Once we have them in stock and checked for condition, we will contact you and give you first refusal to purchase them.
Pre-ordered items do not go on the general website, they are placed in the "pre-order" area for you to purchase ahead of others. All we ask if that if you change your mind at any point in the process, that you let us know immediately!
The swan logo was introduced in 1988, prior to that most silver crystal items (although not all paperweights and occasionally a few other items) were imprinted with a blocked SC logo, and the Swarovski Crystal Society logo was an edelweiss.
Other product ranges, including Crystal Memories and also the annual Christmas ornaments did not bear any Swarovski logo until they were added to all products from 1995 onwards. For that reason, it is quite possible to find Crystal Memories and other items manufactured before 1995 which do have the Swarovski logo applied to them. The first Swarovski Christmas ornament to bear the Swarovski swan logo is the 1995 ornament.
In 2021 Swarovski redesigned their swan logo.
Just follow the links to the insurance guide to find the guide, the guidance notes and other insurance related information.  You can also read about the specialist Swarovski collector's insurance policy which we recommend.
Our insurance guide can be downloaded (free of charge) in Excel format. Using Excel allows you to enter the quantity of each item that you have in your collection and calculates the total value for you.
You may also like to download a second copy to use as your Swarovski wish list.
The value of Swarovski crystal varies from country to country so a straightforward conversion doesn't work.
Our knowledge base is the UK, and our guide is based on sales/prices achieved in that market only.
Well, obviously we don't want to give away any secrets, but its clear that anyone can set up a company with a DIY website in a matter of a few days - and can disappear with your money just as quickly! 
We are a Limited Company rather than a sole trader/partnership, our full company name being "The Crystal Lodge (London) Ltd". We felt that because of the nature of the high-end product that we sell, being a Limited Company and having a bespoke website was the only way to go, rather than a cheap DIY one where every website looks the same. The alternatives wouldn't have demonstrated a high level of commitment to the company or indeed to our clients, particularly when they may, potentially, be ordering some very high value items. One thing that people want with on-line transactions, in particular, is to have full confidence in the company they are purchasing from.  For us, its all about integrity.
Things to avoid when buying a product from any website, particularly when buying expensive products like Swarovski are home-made/DIY websites, lots of pop-ups and adverts, people who only offer you only a mobile telephone number for enquiries, and people who can't offer credit/debit card transactions on the phone.
If they don't invest in a decent website, have a proper landline phone in an office location or can process card transactions via virtual terminal or a manual terminal in their office via a company like WorldPay, then the chances are they are not really interested in good customer service, could be operating part-time out of a garden shed or such-like, and even have the potential to disappear overnight with your money!
Equally if PayPal is their only method of payment, that isn't a great sign of commitment to their potential customers. 
Another give away - are there numerous spelling and grammatical errors on their website?  OK, we all have a few here and there, but are there more than usual?  Another sign all is not well.  Lots of amazing reviews all over the place?  We don't bother with them, we don't need them - and the more there are on a website, the less likely we are to trust it.  It is very easy indeed to get fabulous reviews from family and friends or even write hundreds yourself and plaster them all over your own website to give the impression that you're far better than you are - as per Facebook, you can actually pay people to write them!
Beware those who sell a lot of broken and imperfect, unboxed or even DIY repaired crystal.  This is not the sort of thing that should be being traded.
We are the only company in the UK who Swarovski recommend to their collectors who are seeking to buy or sell Swarovski crystal which is retired or rare. We are proud and highly honoured to have been recognised in this way. 

This sets us apart from the copy-cat companies which spring up from time to time who make all sorts of outrageous claims about their wealth of experience and expertise.  Some pinch all our terminology such as "Crystal Detective services" and so on - not to mention our descriptions, which some, at least, have the decency to put into a slightly different order to give the impression that its all their own work.  Others even steal our watermarked photos and actually seek to charge people for insurance valuations which they poach for free from our website!
The price you see on the website! Don't forget you are purchasing a premium Swarovski product from us, there's no chance involved, unlike auction sites. If we receive a rubbish quality item on the way in to us, we destroy it and don't attempt to pass it to you as "mint".
Mint/pristine condition on auction sites and from other sellers is not the same as the condition that we describe as "mint". Our standards are much higher - quality and customer satisfaction is everything to us! We don't compromise on quality.
We also provide good quality packaging and don't send out items that we would not be happy to receive ourselves.
While we do have a grading system for non-mint items, we only use this when there is a very rare item that perhaps a collector would otherwise be unable to purchase for their collection. We do not think it appropriate to sell non-mint or non-boxed items for regular crystal pieces in a race to the bottom. If you wish to sell your Swarovski collection to us, please bear this in mind.
The Crystal Lodge (London) Ltd has many customers all around the world. These are the countries we have sent items to since the beginning of 2010:
Armenia, Australia, Austria, Azerbaijan Republic, Belgium, Brazil, Bulgaria, Canada, Chile, China, Croatia, Cyprus, Denmark, Estonia, Finland, France, Germany, Gibraltar, Gran Canaria, Greece, Hong Kong, Hungary, India, Ireland (Republic of), Israel, Italy, Japan, Jordan, Kingdom of Bahrain, Latvia, Lithuania, Luxembourg, Majorca, Malaysia, Malta, Mauritius, Mexico, Monaco, Montenegro, Namibia, Netherlands, New Zealand, Norway, Oman, Peru, Philippines, Poland, Portugal, Qatar, Romania, Russia, Saudi Arabia, Singapore, Slovakia, Slovenia, South Africa, Spain, Sweden, Switzerland, Taiwan, Thailand, Togo, Turkey, UAE, Uruguay and USA.
Not forgetting that we also have clients in all 4 countries of the UK, including the Channel Islands, the Isle of Man and the Highlands and Islands!
We hope this list of countries will continue to expand. We are happy to send to all international destinations.
No. We do not, and we can't stress enough how important it is NOT to attempt to repair a piece yourself! Only repairs undertaken by Swarovski themselves can be considered "pristine". We won't purchase any item that has been subject to a DIY repair - most are very obvious and DIY repairs ruin the piece, making it worthless, and it is unsaleable.
We are often asked if we offer a repair service or if we can put people in touch with a "mad professor" who would be able to reassemble a piece which Swarovski have refused to repair as they would be unable to put it back to pristine condition. The simple answer is "no"!
We get our repairs undertaken by Swarovski and if they are unable to effect a repair because there is damage to a piece which cannot be rectified, then we have to write the piece off. Please remember that if you attempt your own repairs, Swarovski will realise that something has been attempted when they inspect the piece, and they will not do any work on the item at all because of an attempted third party repair. So, quickly sticking an ear back onto a piece now, could mean that in future, when you need a part replaced elsewhere on the piece that Swarovski will refuse to do it, as in their eyes the earlier DIY job renders the piece as no longer able to be classed as mint/pristine. So, the investment in a proper repair is best solution in the long-term.
The only safe way to get your repairs organised is to take the piece (in its original box) to your local Swarovski retailer who will send the piece off to their repair department to see if it is possible to bring it back to pristine condition. There may be a charge for this service, but in comparison to the value of the piece once its been brought back to perfection, it is a small price to pay. You can take your item to an independent retailer for onward transition to Swarovski, but they may charge you for the shipping to/from Swarovski on top of the repair charge.
Please remember that a successful repair can only be made if the repair brings the piece back to pristine condition. That means, the cleaning and re-glue of a non-damaged piece, or a damaged piece removed and replaced with a new one. What they cannot do is re-glue large broken pieces, or undertake repairs or re-glues to items which have further damage (ie marks to main body parts etc) which cannot be rectified. Additionally, because parts are only available on a limited basis, there are going to be pieces which can no longer be repaired as the parts are no longer available.
Also please be aware that under no circumstances you should you ever use any glass or chandelier cleaning products to clean your crystal with. The chemicals in these products can destroy the glue joins on the items, causing the join to fail.
We reserve the right to refuse an order. For example, if we receive a large order from a new client who we have never dealt with before, we will only accept it - if they use PayPal for payment, not WorldPay - and the order can only be sent to the address that appears on the PayPal receipt. We will not send it elsewhere. This is, sadly, a sign of the times, and we have to try to avoid fraudulent transactions which often start this way. Its not good for the genuine customers, but we hope you understand our position on this.  Obviously, once we know you, it isn't a problem.
Thank you for your understanding.
Thank you for visiting The Crystal Lodge
We really hope you enjoy your visit to The Crystal Lodge website. We are collectors ourselves and we think we know what collectors want from the secondary market. We believe we've got the right balance between a store and a reference source/collector's resource site, but we are always willing to listen! Customer satisfaction is of paramount importance to us.
We are really looking forward to working with all of you!
Thank you for visiting our website.
Alison & The Crystal Lodge team