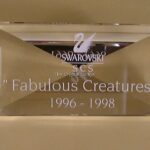 SWAROVSKI PLAQUE FOR 1996-1998 TRILOGY – FABULOUS CREATURES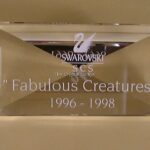 SWAROVSKI PLAQUE FOR 1996-1998 TRILOGY – FABULOUS CREATURES
Description
This crystal plaque was available for the entire period of the trilogy. The Fabulous Creature series comprised: the Unicorn, the Dragon and Pegasus. Painted onto the plaque is the swan logo and the inscription:
Swarovski
SCS
"Fabulous Creatures"
1996 – 1998
Here at The Crystal Lodge, we have noticed 2 different formats to this plaque. In some the SCS is in large letters, in others the size of the SCS in comparison to the word Swarovski is much smaller.
Size: 2 3/4″ (69mm) long
Designer: Unknown
Introduced: 1996
Retired: 1998