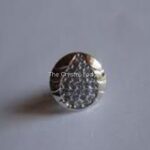 SWAROVSKI PIN 2009 – WATER 992145 – SET OF 10 PINS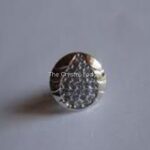 Description
Swarovski code numbers: 992 145 / 992145
This small round pin is ½" (13mm) in diameter and is in rhodium metal, with clear and light blue crystals. It was presented to members at SCS events throughout 2009, and depicts water.
Individual pins are sold at £12.50 each, but here you can order a set of 10 pins for the equivalent of £8.00 each – which is less than the original retail price of £10.00 each if you purchased these at Swarovski events.
Each pin comes in a black velvet drawstring pouch.