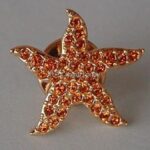 SWAROVSKI PIN 2005 – STARFISH HARMONY/TOPAZ 828113 – PACK OF 10 PINS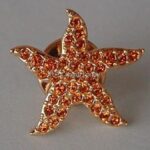 Description
Swarovski code numbers: 828 113 / 828113
This starfish pin comprises topaz crystals, and is 1/2" (13mm) long. This pin was made to complement the Harmony Annual Edition and was presented to SCS members at events throughout 2005. With no signing events in the UK during 2005, this one is normally the one missing from people's collections in the UK!
A set of 10 pins all in their individual black velvet drawstring bags. They make great gifts. Gold stars for achievement, or just to show people you think they are a star!
Being sold individually for £12.50, buy 10 for just £80, equivalent to £8 each. Only available for that price in this listing, not for sale at the same price in the individual listings for this pin.