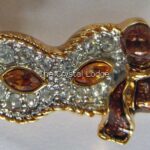 SWAROVSKI PIN 1999 – MASK TABAC (AMBER) – SET OF 10 PINS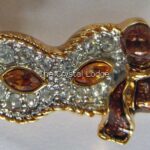 Description
This mask shaped tac pin was given to SCS members who attended SCS events to celebrate the Pierrot annual edition in 1999. The metal is gold, and the pin has clear and tabac stones, with a tabac metal bow.
Size: 15/16″ (23mm) long
Designer: Unknown
Introduced: 1999
Retired: 1999
THIS LISTING IS FOR 10 PINS. These are £12.50 when sold individually.