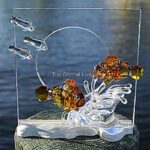 SWAROVSKI 2005 ANNUAL EDITION HARMONY – COLOUR 657120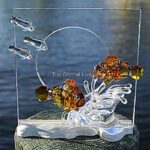 SWAROVSKI 2005 ANNUAL EDITION HARMONY – COLOUR 657120
Description
Swarovski code numbers: 657 120 / 657120 / 7400 200 500
The annual piece for 2005, Harmony was the first of the "Wonders of the Sea" trilogy, representing a welcome return to animal trilogies. The entire trilogy was available in either colour crystal or clear and was designed to interlock to form a complete underwater scene. For this reason, Swarovski marketed Harmony from 2005 through until the end of 2007 when the trilogy retired. Collectors were able to buy both the clear and colour versions as part of their membership benefits. A separate plaque was available for each piece of the trilogy which shows the name of the piece and the trilogy and it was also possible to purchase additional extras including an LED stand.
Harmony is designed to be placed in the centre of the 3 trilogy pieces. It has a small school of fish in the top left hand corner, and a matt crystal anemone in the bottom right. The anemone has 2 clown fish swimming around it. In the colour version, these clown fish are made predominantly from topaz crystal.
Size: 7 3/4″ (175mm) tall
Designer: Martin Zendron
Introduced: 2005
Retired: 2007
PLEASE NOTE THAT THIS PIECE WEIGHS OVER 2KG, AND FOR THAT REASON WE CURRENTLY DO NOT ACCEPT INTERNATIONAL ORDERS FOR IT HAS TO BE SENT BY COURIER, WHICH IS WAY OVER THE SHIPPING CHARGE WE HAVE SET.