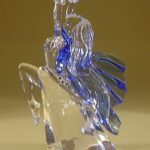 SWAROVSKI 2002 ANNUAL EDITION ISADORA 279648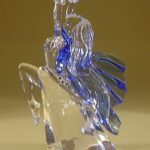 SWAROVSKI 2002 ANNUAL EDITION ISADORA 279648
Description
Swarovski code numbers: 279 648 / 279648 / 7400 200 200
Available during 2002, Isadora is the first of the "Magic of Dance" trilogy. This trilogy was the first time the designs had been produced to represent real people, in this case the dancer Isadora Duncan. Isadora is depicted in clear and blue crystal, and with moveable bracelets on her wrists, An optional plaque was available for this piece, and also an optional stand – the stand being the same for all 3 pieces of the trilogy. In some countries, there was the opportunity to purchase a revolving stand. The optional plaque is for "Isadora" and does not mention the "Magic of Dance" series.
Size: 7 7/8″ (200mm) tall
Designer: Adi Stocker
Introduced: 2002
Retired: 2002
PLEASE NOTE THAT ISADORA ONCE PACKED WEIGHS OVER 2KG, AND FOR THAT REASON WE CURRENTLY DO NOT ACCEPT INTERNATIONAL ORDERS FOR THIS PIECE AS IT HAS TO BE SENT BY COURIER, WHICH IS WAY OVER THE SHIPPING CHARGE WE HAVE SET.