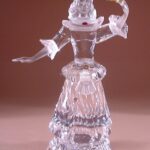 SWAROVSKI 2000 ANNUAL EDITION COLUMBINE 242032 – signed by designer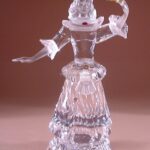 SWAROVSKI 2000 ANNUAL EDITION COLUMBINE 242032 – signed by designer
Description
Swarovski code numbers: 242 032 / 242032 / DO1X001 / 7400 200 000
Available during 2000, Columbine was the second piece of the "Masquerade" trilogy. Columbine is made from clear, frosted and colour crystal. An optional stand and plaque were also available. The optional plaque is for "Columbine" and does not mention the "Masquerade" series. A separate stage display trilogy was also available on which all 3 of the trilogy could be displayed together.
Size: 6 3/4″ (171mm) tall
Designer: Gabriele Stamey
Introduced: 2000
Retired: 2000
THIS ITEM HAS BEEN HAND SIGNED BY THE DESIGNER.