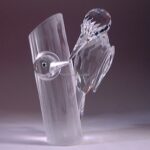 SWAROVSKI 1988 ANNUAL EDITION WOODPECKERS – "Sharing" (var 2) – CLEAR BASE 117937C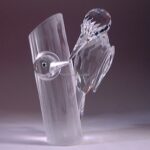 SWAROVSKI 1988 ANNUAL EDITION WOODPECKERS – "Sharing" (var 2) – CLEAR BASE 117937C
Description
Swarovski code numbers: 117937 / 117 837 / DO1X881
The Woodpeckers were the second Annual Edition made for SCS members, and they belong to the "Caring and Sharing" trilogy. Because the Woodpeckers were being produced at the time when the Swarovski and SCS logos were changing from SC/SCS to the swan logo, the Woodpeckers can be found with either logo. The Woodpecker figurine depicts a parent Woodpecker and a baby on a tree trunk, and the piece came with an octagonal SCS mirror. Because of the hand assembling of this piece, here at The Crystal Lodge, we in a position to compare different Woodpeckers, and they vary quite considerably in head placement, and notably the beaks of the 2 birds can be placed quite close to each other, sometimes crossing or they are further apart. This version is the more common version which has a frosted trunk base (the underside of the piece). Some of the earlier examples have a clear base.
This version is the much rarer version which has a clear trunk base (the underside of the piece). Here at The Crystal Lodge, we believe that the original intention was that the Woodpecker tree trunk base would be polished to give a clear finish, but since the top remained frosted, there probably wasn't much point in doing this, as no-one would see this on display, and we believe that this is why the majority of Woodpeckers have the frosted base.
An optional blue velvet stand and a silver plastic plaque were made to go with this piece originally. Later, a clear "Caring and Sharing" plaque was issued by public demand!
Size: 4 1/8″ (105mm) tall
Designer: Adi Stocker
Introduced: 1988
Retired: 1988
PLEASE NOTE:
As is often the case with the old foam for the Lovebirds and Woodpeckers, the foam is going a bit powdery but it is still best to use it rather than replace it with something more generic, as it keeps the item safe due to the bespoke shape of it.