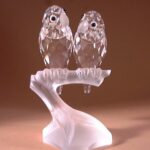 SWAROVSKI 1987 ANNUAL EDITION LOVEBIRDS – "TOGETHERNESS" 013560 – AVAILABLE TO ORDER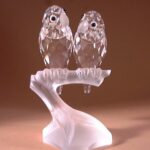 SWAROVSKI 1987 ANNUAL EDITION LOVEBIRDS – "TOGETHERNESS" 013560 – AVAILABLE TO ORDER
Description
Swarovski code numbers: 013 560 / 013560 / DO1X861
Unveiled at the end of 1986, the very first Annual Edition made for SCS members which was available during 1987 was The Lovebirds, also known as "Togetherness". The very first trilogy of Annual Editions was called "Caring and Sharing". This is the only Annual Edition to exclusively carry the old "SCS" logo. The birds are made from clear crystal with black/white eyes and frosted beaks. They sit on a frosted crystal branch. Originally, the design was attributed as a collaborative project between Max Schreck and Adi Stocker, but in 1998 Swarovski gave full credit as designer to Max Schreck. Because this is the very first annual edition, and it was only ever available in English speaking countries, plus it was restricted to SCS members, it is believed that it was quite rare and it is believed that only around 10,000 were made. This meant that even collectors in Austria – home of Swarovski – could not purchase the piece!
Size: 4 1/16″ (103mm) tall
Designer: Max Schreck
Introduced: 1987
Retired: 1987
An optional blue velvet stand and a silver plastic plaque were made to go with this piece originally. Later, a clear "Caring and Sharing" plaque was issued by public demand!
AVAILABLE TO ORDER.