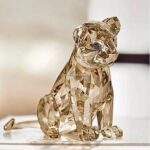 CRYSTAL DETECTIVE: SWAROVSKI 2016 LION CUB 5135896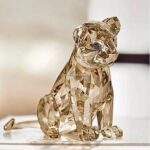 CRYSTAL DETECTIVE: SWAROVSKI 2016 LION CUB 5135896
Description
THIS ITEM HAS BEEN PRE ORDERED BY A CLIENT USING OUR CRYSTAL DETECTIVE SERVICE.
IT IS ONLY AVAILABLE TO THAT CLIENT AND NOT AVAILABLE FOR GENERAL SALE.  THANK YOU.
Swarovski code number: 5135896 / 5173246
Inspired by African wildlife and nature, this adorable lion cub is crafted in light brown crystal with an impressive 788 facets for maximum sparkle. Combine it with the SCS Annual Edition Lion Akili and Lion Mother to create a heart-warming family scene. Only available in 2016 for SCS members only, this lion cub was also given as a loyalty gift to SCS members who had purchased all 3 annual edition pieces in 2014, 2015 and 2016 respectively.
Code number if purchased: 5135896
Code number if given as a loyalty gift: 5173246
Approximate size: 5.6 x 3.8 x 7.4 cm
Designer: Heinz Tabertshofer
Introduced: 2016
Retired: 2016